Our mission is to help patients live healthier lives. We provide a caring, nurturing environment where your comfort and health is of primary importance.
6400 Creedmoor Rd #103 Raleigh, NC 27613
Optometrist Raleigh NC
Fusion Eye Care is a North Raleigh eye care center and optometry practice serving the local community with comprehensive eye care and eyewear for patients of all ages. Whether you are new to the area looking for management of an ocular condition, such as keratoconus, glaucoma, cataracts, or macular degeneration, or simply interested in the newest spectacle trends; we've got you covered. Our Raleigh optometry practice is based on providing patients with quality care using the latest technology in an upbeat environment. Our doctor is knowledgeable, takes time with his patients, and addresses all of their concerns. So if you are new to the area or notice you are just not receiving the same level of care you were before because of a change in ownership, or you are simply looking for a new eye care provider by searching on Google for "eye doctor Raleigh NC", we would love to help.
Fusion Eye Care is housed in a beautiful 4,000 square foot facility shared with Fusion Dental Care and conveniently located at the intersection of Creedmoor Road + Lynn Road. You can see pictures of our practice on Yahoo and read all of our reviews. As soon as you walk in you will notice high vault ceiling, soothing aromas, open floor plan, and most importantly… smiling faces.
Fusion Eye Care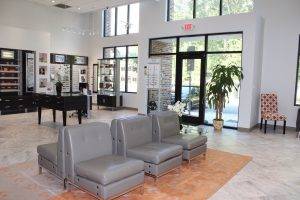 Getting the right prescription for your eyeglasses or contact lenses is an important part of good eye care. But seeing clearly is just one part of your overall eye health that one of our ophthalmologists can help you with. It's important to have regular eye exams with an optometrist near me, whether or not you wear glasses or contacts, and even if your vision is sharp. We believe in looking at the big picture when it comes to your eye health, so we take the time to get to know you, your eye care history and your vision needs. Getting the right prescription involves balancing several factors, including clear eyesight, visual efficiency and your ability to process visual information seamlessly. Whether you need a routine free eye exam or treatment for eye disease (such as glaucoma or macular degeneration) or eye surgery (such as LASIK or cataract surgery), our Raleigh eye doctors will provide you with the best care, advice, options, and follow up management. We also proudly offer CareCredit that enables our patients to finance their eye care expenses.
Schedule an appointment today to see how we can help you get the best prescription for your eyes.
Four Important Aspects Of Great Frames For Eyeglasses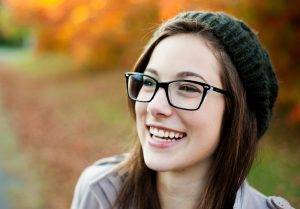 You don't have to know the ins and outs of fashion to find frames for your glasses that look amazing on your face. The opticians at Fusion Eye Care makes the process of choosing the perfect frames simple. Use these four tips and you will narrow down your choices to those that best suit your personal style.
The Shape Of Your Face.

Do you have an oval, round, heart, square, or diamond shaped face? The shape your face takes will determine what shape of frames you should look for in a pair of glasses.
Round Face – If you have a rounder face, look for glasses that are rectangular or square in shape. These will help elongate the look of your face, making it looks slimmer and balancing out round features. Avoid – Stay away from round frames, small frames, and ones that are rimless as these accentuate the round shape of your face, making you look even more round.
Oval Face – If you have an oval shaped face, look for frames featuring a strong bridge across the nose, and ones that are geometric in shape or have a larger width than the most broad part of your face. Avoid – Large eye glasses and those that cover up too much of your face, as this will throw off any symmetry and natural balance you have.
Square Face – Look for eyeglasses that soften any angular aspects of your face. Frames that sit higher on the bridge of your nose are also a great choice. Glasses that are round or oval in shape can help a square face appear thinner and add balance to your features. Avoid – Stay away from boxy or angular frames, as these will draw attention to your sharp or angular features, and can make an already square face look bulkier.
Diamond Face – Faces that are diamond-shaped often have a more narrow forehead and chin, so play up these features with frames that either wider in the cheekbones or sweep up in shape. Good examples of this include oval frames or cat's eye frames. These will draw attention to and flatter your cheekbones. Avoid – Stay away from narrow or boxy frames as these make your cheeks look too wide, and will accentuate how narrow your chin or forehead are instead of enhancing them.
Heart Face – Look for frames that will balance out your wider forehead with your more narrow chin. These can include glasses featuring a lower-set temple or frames that are bottom heavy. This will add necessary width to the narrow areas of your face. If you have a high or broad forehead, look for round frames or square ones that have softly curved edges (no harsh angles) to draw the eye away from the forehead. Avoid – Stay away from any frame that has bright colors or draws attention towards your forehead. Some examples include frames with embellished tops or decorative temples.
An easy way to remember these tips is to keep in mind "opposites attract." Eye glasses should contrast from the contours of your face, creating balance and symmetry to any features you have that are too prominent. You can virtually try on hundreds of different frames at Fusion Eye Care, and find the style to perfectly complement your face.
Colors Should Match Skin Tone
Just like the shape of your face will determine what shape of frame looks best, your skin tone does the same for frame color. The tone of your skin is more important than even eye or hair color when it comes to eyeglass frames that look fashionable. Look for shades of color that are close to your skin tone when choosing frames.
Warm Skin – If your skin has a bronze, golden, or yellow cast to it, your complexion is considered "warm." Avoid colors that contrast this, including most pastels. Black and white frames are also not ideal. Instead, look for frames that come in browns, golds, tortoise shell, honey, olive green, or beige.
Cool Skin – A cool complexion is one that features undertones of blue or pink. Avoid any color that will cause your face to appear washed out, instead opting for frames in black, silver, dark colors, purple, pink, blue, gray, or mauve.
Think About Your Lifestyle
You can find frames for your glasses to suit any type of lifestyle you wish to live. Consider what type of activities you will be pursuing when you wear your glasses. If you lead an active lifestyle, consider Flexon frames. They can twist and bend with your movement instead of breaking. Do you play a lot of video games? Gamers might consider looking at frames designed to enhance your experience gaming, reducing the glare from monitors and reducing eye fatigue. If you work in an office and need to impress, you can find business savvy frames that are stylish while still being appropriate for any office. You can find frames for any type of lifestyle at Fusion Eye Care.
Your Frames Should Suit Your Personality
The frames you have on your glasses often say a great deal about what kind of person you are. You can even opt for two different frames – a fun pair for weekends spent enjoying yourself and a more sensible, business appropriate pair for the work week. You can choose frames in your favorite color, just try not to clash it with your skin tone, or opt for embellishments that showcase your style. You can pick one frame that is suitable all-around, or have a collection that you can choose from, altering your frames to go along with your mood or style of the day.
Now that you know what to look for in eyeglasses, check out the wide selection available at Fusion Eye Care by coming by our North Raleigh location on Creedmoor Rd. We look forward to seeing you in person soon.
If you have any questions, we're here to help. Call us today at (919) 977-7480.
We Specialize in Dry Eye Treatments
If you're suffering from dry eyes and wish they would stop itching, then we can help. We've been helping patients suffering from sever dry eyes for years now and would love to be able to help you as well. For those unfamiliar with the condition, dry eyes is a medical condition where a person no longer produces enough tears to keep the eyes nourished and of course lubricated. Our tears are what ensure our eyes remain healthy for a long time, so without them, serious issues can arise. If clear vision is important to you and you want to protect the surface of your eye from any potential damage, then you need our dry eye treatment and you need it as soon as possible. Whether you suffer from chronic dry eyes from simply getting older or because of another one of the most common eye problems you are not aware of yet, Dr. Bassiri of Fusion Eye Care can help.
One potential solution for your dry eyes are punctal plugs, which are very small, biocompatible devices that your optometrist at Fusion Eye Care can insert into your tear ducts to blocking any drainage. They do a great job at increasing the surface moisture on your eyes and can provide real relief from chronic dry eyes. Punctal plugs are also known as occlunders and are surprisingly small. In fact, they tend to be no bigger than a single grain of rice. Be sure to speak with Dr. Bassiri to determine if punctal plugs are good solution for your dry eye condition.
Scleral Lenses
Scleral lenses are a type of contact lenses that are larger in diameter than regular contact lenses. They are also gas permeable, can be quite rigid and range in size from 14 mm to 20+ mm in diameter. They're called 'scleral' because they are designed to totally cover your eye's cornea, which is the clear tissue dome that covers up your eye's colored part. They also extend onto the white part that forms the eye's outer wall as well. Here at Fusion Eye Care, we help patients that need scleral lenses by helping them see what the advantages of these lenses are.